NEWSFLASH: Theater is Alive and Well in Los Angeles (Evidence Within)
Managed to slither out from my Evil HQ here in Valley Village and see some actual Los Angeles theater over the last week or so, LemonHeads, and wanted to give you the skinny on the fatty because that's just how generous a guy I am.
I don't even know what that means but here you go!
Man Coverts Bird: I inadvertently wrote a preview write up on this show before it opened (egads!) but Deb and Jay appreciated the thoughts and the attention so much they said, "Keep it up we don't mind!" So I did. But they also invited me back and so I went with my six year old, Max, and I'm happy to say, my boy was enthralled. Though the story still at times gets caught up in a quagmire of its own making, mostly due to the script, the production has been streamlined and the power of the piece is on a more even pitch than it was on my first viewing. In other words, it got better. And you cannot beat the music and singing of the two performers. Quite stunning actually. I believe they are taking a weekend off for Dia de Los Muertos and then they are back at it for a couple more weeks. Tremendous fare for both family and adults. Worth a look.
Willy Wonka The Musical: In contrast to Man Covets Bird, this is a more traditional "kid's show" that of course follows the exploits of everybody's favorite future chocolateer, Charlie Bucket. Playing at the El Portal, it's a bit slapdash and the quality of the participants is all over the place, but the lead, Matt Denoto, gives a fun-filled performance, even if his singing is only serviceable. Again, brought my boy and he loved it and got a autograph from Willy himself after the show. It's not going to make you leap out of your seat, but it'll make you smile, and it's a breezy 75 minutes of childish fun.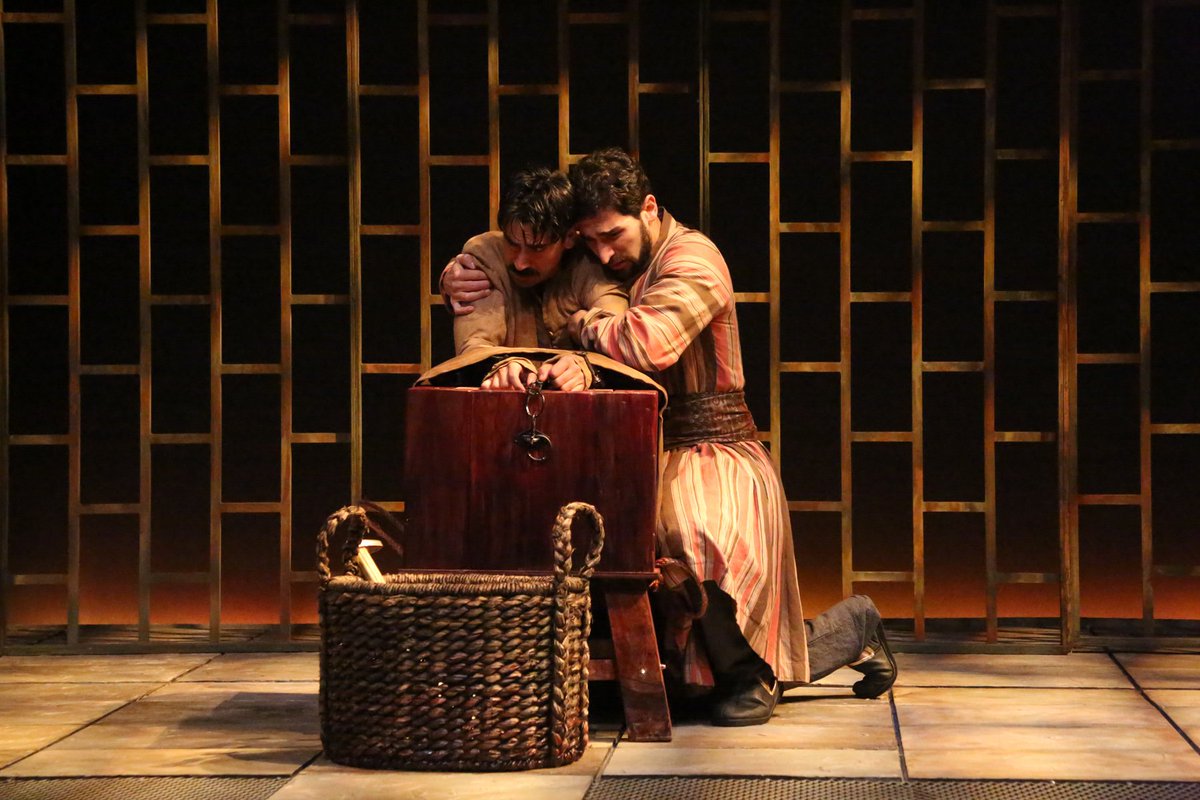 Guards at the Taj: My first encounter with the tremendously talented playwright Rajiv Joseph and I'm happy to say it was a most enjoyable first impression. Simply put, this is an exquisite piece of theater. I know, I know, good theater at the Geffen? Hey, it happens every once in a while and this is one of those whiles It's a delicate blend of slapstick farce and deeply felt pathos, but overall it is a thrilling commentary on beauty and war and friendship and the imagination. Two guards standing watch before the Taj Mahal as it gets ready for its unveiling, forbidden to even look at the structure and eventually forced to maim the very people who have spent sixteen years to build the masterpiece. It's all there and it is mined thoroughly and executed deftly. I especially appreciated the poetry Joseph mines from his material. Pure theater.  See it.
Urban Death: Tour of Terror: Final weekend for this incredibly entertaining and equally disturbing performance art haunted maze over at Zombie Joe's Underground. Seen it a couple of times and it's almost as much fun to watch the audience reactions as it is the show. Don''t miss it. Five shows tonight, Friday, and tomorrow night, Saturday, on Halloween.
That's it for now, LemonHeads, now go see some theater!